Deborah Thomson School of Dance
Welcome to the Deborah Thomson School of Dance.
For those of you who are unfamiliar with me and my studio and are looking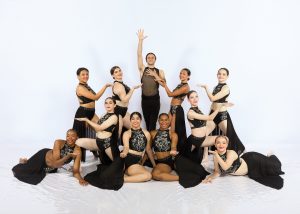 for a dynamic dance studio for your child, please let me introduce myself.
My name is Deborah Thomson. I have personally been involved in competitive and recreational dance since the age of 5. I am a licensed teacher, choreographer, and member of the British Association of Dancing (B.A.T.D), Dance Masters of America (D.M.A), and Royal Academy of Dance (R.A.D). I have also had the opportunity to run and own a dance competition and judge Regional and National Dance Championships across Canada and the United States. With the amount of experience I have had over the numerous decades of owning a dance studio and even more years teaching, I know I have the ability to not only teach dance but also many lessons used in other aspects of life outside of the studio. Trying to increase my students artistry has always been a top priority of mine while teaching. Many students of mine have brought their children to my studio to learn from me just how they once did! Previous students of mine have also gone on to become dance instructors and dance professionally in various countries!
DEBORAH THOMSON SCHOOL OF DANCE
GENERAL INFORMATION
HOLIDAYS:
The studio will be closed the following dates:
Thanksgiving Weekend.
Halloween.
Christmas/New Years Break.
Easter Weekend (Friday-Sunday).
Any other cancellations due to weather, etc. will be communicated through email and possibility of social media @DTSOD on all platforms
OPEN HOUSE:
Families are invited to come in and view their child's classes in December. Dates will be provided and posted once finalized. This applies to recreational and ballet classes only (No Competitive Classes).
COSTUMES:
Every student will need to purchase a costume for the year end recital for every dance routine they are in. The first payable costume deposit is at registration and the second in January. Any additional costs for competitive costumes will be communicated with the parents and are due before competition.
COMPETITIONS:
We will be entering at least three competitions as well as a possibility of finals, more information will follow on the dates and competitions at a later date.
DRESS CODE:
BALLET –
Girls: Grades 1 through 5 of ballet will wear a navy blue leotard, pink tights and pink ballet slippers. Levels Intermediate Foundation and up will wear a black leotard, pink tights and pink ballet slippers. Hair must secured be in a bun.
A Character skirt and Character shoes will be required for Grades 1 through 5 of Ballet.
Pointe shoes will be required for Intermediate Foundation and up. Teachers will advise which shoes to purchase.
Boys: Must wear a fitted t-shirt with shorts and black or white ballet slippers.
JAZZ –
Girls: All levels may wear a leotard, tights, unitard, crop top or biker shorts. Hair is up and out of the face.
Boys: All levels may wear a t-shirt and shorts.
All competition classes will be advised what shoes are required (if needed) for the year.
TAP – Body wear is the same as Jazz. Intro classes must wear black patent tap shoes. All other levels must wear 1/4" heel black tap shoes. Boys are to wear black oxford tap shoes. Hair is up and out of the face
ACRO – Body wear is the same as Jazz. Stirrup tights may be worn. No shoes or socks shall be worn. Hair is up and out of the face
MUSICAL THEATRE – Body wear is the same as Jazz. Footwear will not be needed during the year but may be needed for the year-end performance, which will be advised by the teacher nearing competition/recital. Hair is up and out of the face